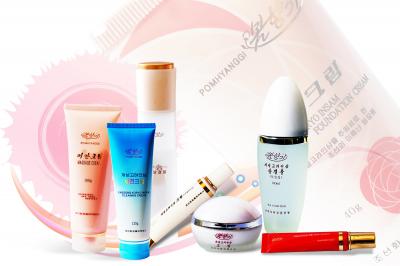 Enterprise Name : Korea Cosmetics Trading Company
Everybody wishes for eternal youth and beauty as if they are in a balmy spring day when all things in nature start to grow again and flowers open, emitting rich fragrance. To satisfy this wish is our ideal.
The Sinuiju Cosmetics Factory situated in Sokha-dong No. 1, Sinuiju, North Phyongan Province in the Democratic People's Republic of Korea, has realized its integration of R&D and production.
It has under it Pomhyanggi Cosmetics Research Institute that specializes in cosmetics research and development, and is equipped with production lines for cosmetics, soaps and cleansers, glass and plastic containers, plastic packing materials and others.
The factory's cosmetics famous for its brand Pomhyanggi constitute main articles of export of the Korea Cosmetics Trading Company and they are popular in domestic and foreign markets.
Pomhyanggi cosmetics with world-famous Kaesong Koryo insam as the main ingredient are widely known as multifunctional cosmetics. As they are highly effective in boosting skin metabolism to retard aging, improve the skin's elasticity, enhance whitening effects, remove wrinkles and preserve moisture, they make the skin young and beautiful.
The products that ensure high quality and hygienic safety passed ISO 9001 and SGS tests and are granted the GMP and DPRK quality certifications. More than 250 kinds of Pomhyanggi cosmetics are now being exported to many countries in Europe, Asia and other parts of the world. Pomhyanggi cosmetics have passed assessment tests at several laboratories of foreign countries, including France, Germany, Russia, China, Mongolia and Japan.