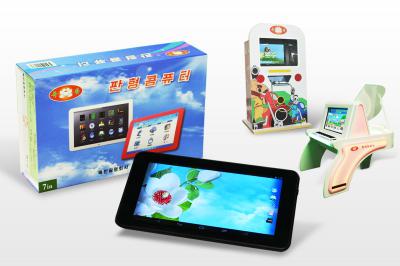 Enterprise Name : Mokran Kwangmyong Company
The Mokran Kwangmyong Company is a technology-intensive enterprise specializing in the production of various electronic and electric goods and recreational and rhythmic apparatuses.
Incorporated in December 1992, its total floor space is tens of thousands of square metres.
Furnished with DVD production lines, and electronic and electric goods and recreational and rhythmic apparatus production lines equipped with SMT and THT, it develops and produces polycrystalline, amorphous and portable solar panels of various kW capacity, rechargeable monolithic inverters (3kW, 5kW), system parallel solar inverter (30kW), round-angle revolving apparatus for recreation, flying simulation apparatus, VR experiencing apparatus and various other electronic and electric goods and rhythmic apparatuses (2-axle 9-seat rider, 6-axle 5-seaat rider).
It also directs its efforts into programming, thus developing various game apps and 4D animations.
Experienced in building solar energy generation system, the company offers to order technical service for the installation of equipment for solar power stations of various kW ranges.
Recently it has developed a digital multimedia player for TV and multimedia service system Mokran for smartphones.
Marketing and technical service for the developed products are undertaken through commercial outlets in Pyongyang and provinces.
The company is making proactive efforts to realize its enterprise strategy of developing products and programs with world competitive edge.